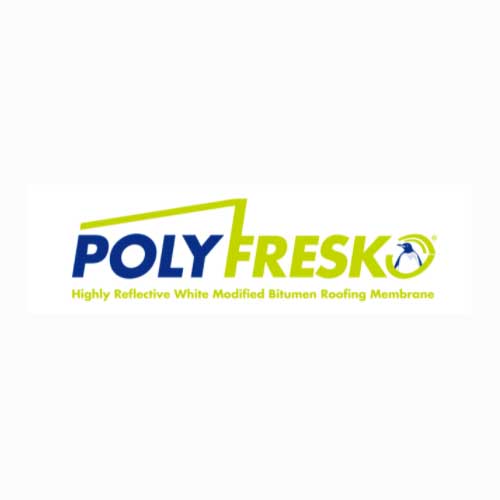 Polyfresko® G SA — Highly Reflective Self-Adhered APP Cap Sheet
YOUR ULTIMATE ROOFING SOLUTION
With Polyfresko G SA cap sheets, you can save time, cut labor costs, and provide more than a roof to your customers. With this unique Kool Roof System and Cure Technology, you'll provide your clients with energy-saving solutions and assist them in meeting their sustainability goals too. Polyfresko G SA is a highly reflective, self-adhered granular surfaced atactic polypropylene (APP) modified bitumen roofing membrane manufactured using patented ADESO® Dual-Compound Self-Adhered Technology whereby a "true" APP compound is applied on the top layer and an aggressive self-adhesive compound on the bottom.
❄️ High Solar Reflectance Index (SRI) Initial: 96, 3-Year Weathered: 83
❄️ Exceptional granule retention and stain resistance
❄️ FASTLap granule free end lap provides faster, stronger seams
❄️ SEALLap ULTRA granule free selvage edge now with self-adhesive compound for an immediate, long-term monolithic seam
❄️ Energy-efficient, eligible for LEED® points ASpart of qualified cool roof system
Polyfresko G SA membrane is a California Title 24 compliant membrane, achieves Class A fire rating, and has been tested to ensure long-term performance in the most extreme environments. Polyfresko G SA membrane is listed with the Cool Roof Rating Council (CRRC) with a Solar Reflectance Index (SRI) of 96. Polyfresko G SA membrane features CURE Technology® – an innovative thin-film technology attributing to exceptional granule retention, stain and discoloration resistance, and UV stabilization for long-term durability and performance. CURE Technology is solvent-free and environmentally friendly.
Polyfresko G SA is constructed with a high-performance polyester reinforcement providing a roofing membrane with exceptional tensile strength and dimensional stability. Polyfresko G SA cap sheet also features SEALLap® ULTRA, side lap with self-adhesive compound for an instant bond, tested stronger than all other application methods and FASTLap®, granule free end lap. Each of these patented features provides for greater ease of application as well as improved long-term performance.