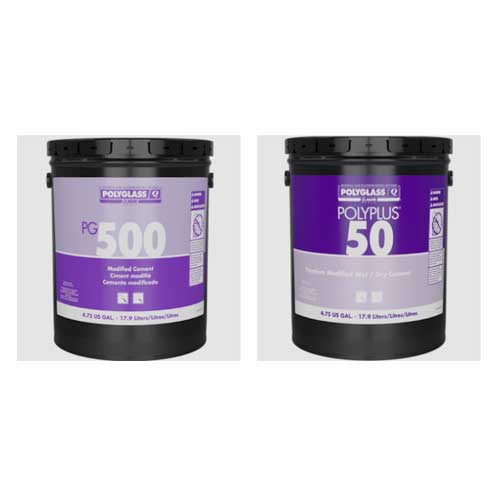 Top Modified Cement Products Spotlight on PG 500 & PolyPlus®️️ 50
Discover the benefits and features of two of Polyglass's top modified cement products — and find out when you might use one over the other. Many contractors trust PG 500 as their go-to modified cement for dry conditions while keeping PolyPlus 50 wet/dry cement on hand for emergencies and "rainy day" work.
PG 500
Trusted, Long-Lasting Performance in Dry Conditions
▪️ Used for sealing lap seams and perimeter edges of SBS membranes.
▪️ Used for Steep Slope Roof Drip Edge Detail Installation Over The Field Sheet.
▪️ Used to repair side laps.
▪️ Heavy, "trowel-grade" consistency, which makes it ideal for flashing details, attachment of the SBS membrane to steep slopes and parapet walls, and various waterproofing repairs.
▪️ Have flexibility and elasticity making them superior to standard plastic cement, especially where there are moving joints.
PolyPlus®️️ 50
Ideal for Emergency Repairs in Both Wet/Dry Conditions PolyPlus 50 offers all the features and benefits of PG 500, plus:
▪️ Suitable for conditions that are wet, damp, or underwater.
▪️ Can also be used for emergency repairs on shingles, BUR (Built-Up Roofing), concrete, and general damp proofing.
▪️ Contains special additives that enhance spreadability, allowing for more linear feet applied per hour.
▪️ Recommended for service crews
View Videos:
Using PG 500 for 3-Course Roof Repairs