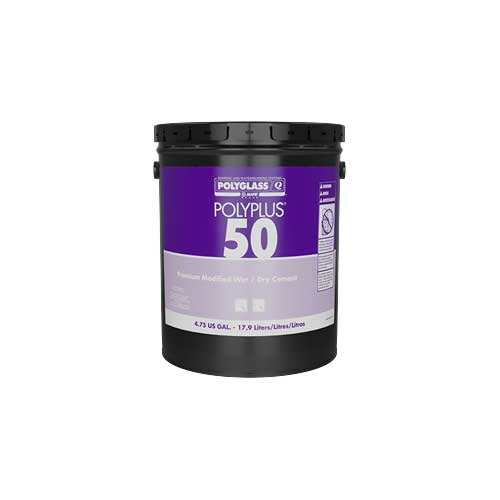 The Question: What is the best wet/dry cement for use in a wide variety of roofing applications?
PolyPlus50 premium modified wet/dry cement is a superior quality formulation for use in a wide variety of roofing applications such as SBS roofing systems and various other membrane systems and even in wet, damp conditions underwater. In addition, PolyPlus 50 can be used for emergency repair as well as on shingles, BUR (Built-Up Roofing), concrete, and general damp proofing.
PolyPlus 50 has a heavy, "trowel-grade" consistency that makes it ideal for flashing details, attachment of the membrane to steep slopes and parapet walls, and various waterproofing repairs. Its flexibility and elasticity make it superior to standard plastic cement especially where there are moving joints. PolyPlus 50 contains special additives that enhance spreadability allowing for more linear feet applied per hour and is specially formulated to be compatible with Polyglass roofing membranes.
For more details click the PDF buttons below.
With its origins as a roofing contracting business, Polyglass® became a leading manufacturer of modified bitumen roofing membranes in Europe in the 1960s and introduced its products and technology to the United States in 1992. Since then, Polyglass has grown to be a leading innovator in the roofing industry. Decades of practical experience in the application of roofing and waterproofing materials provide a strong foundation for understanding the importance of contractor satisfaction.
Launching innovative technologies such as Polyglass's patented self-adhered ADESO® Technology in the 1990s positioned Polyglass as a leader in self-adhered modified bitumen membranes. As the company continued its growth, it was acquired in 2008 by Mapei®, a global manufacturer of adhesives, sealants, and chemical products for the building industry. After the acquisition, Polyglass U.S.A.'s headquarters moved to Deerfield Beach, Florida and currently has five ISO 9001:2015 certified manufacturing facilities servicing the Americas.