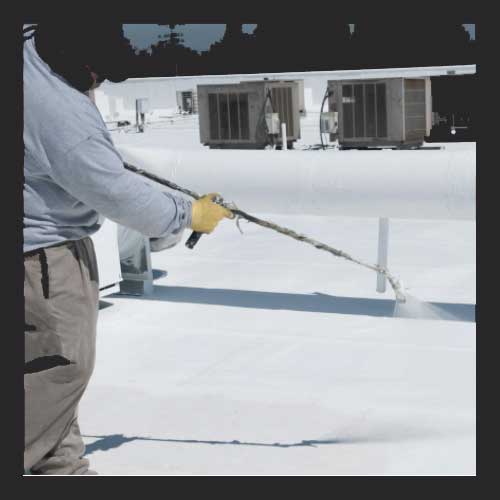 Reduce energy costs, extend the life of the roof with white elastomeric coatings.
Elastomeric roof coatings can be applied successfully over many different roofing materials; it's the intelligent choice for Premium Roof Protection! They provide additional protection to existing roof systems, reduce energy costs. Here are the ways:
💡Increased energy efficiency and UV protection. Elastomeric roof coatings offer a "cool roof" effect that lowers energy bills in the summer months.
💡Adds additional waterproofing and weathering protection. Elastomeric roof coatings provide a robust shield against rain, snow, ice, etc. Also, provide additional reinforcement for roofs subject to high winds.
💡Easy to repair and maintain once installed. Vulnerabilities can be easily resealed by applying more coating directly to the areas of damage.
💡Restores roof viability and extends roof-life expectancy. A well-applied elastomeric coating can last 10-20 years.
How to Apply Elastomeric Roof Coatings
RoofTech Sales Associates
A family legacy, founded in 1997, Jim Gory set out to continue the tradition and utilize the extensive knowledge gleaned from an 80-year heritage in roofing. Roof Tech Sales & Associates set out to provide products and information through distribution, working directly with contractors, architects, consultants, and specifiers. We are an independent representative firm for the highest quality manufacturers in the roofing industry. Our focus is on sales, support, and customer service for our clients. In addition to marketing and sales support, we act as field consultants, provide training, product guidance, and help develop specifications for Florida.
Polyglass is committed to adding value by producing cutting-edge products that meet or exceed the needs of our customers. Our goal is to provide a professional experience, focusing on quality products and efficient service while meeting the objectives of our shareholders and employees. Certified, the leading manufacturer of modified bitumen membranes and roof coatings for low- and steep-slope applications.