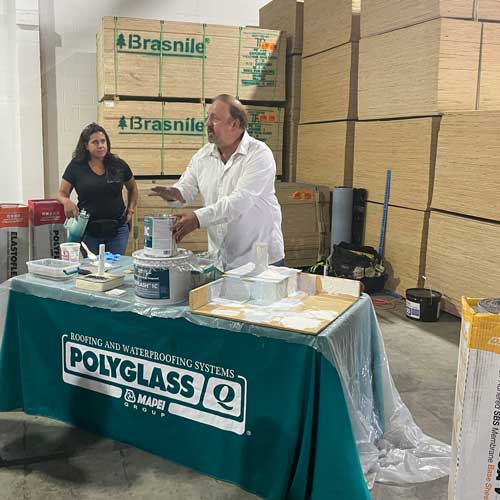 NWIR Educational Meeting at Spec Building Products Orlando
Polyglass sponsored a National Women in Roofing meeting in April at SPEC in Orlando. The National Women in Roofing, Central Florida chapter attended. Polyglass, Dan Smallwood presented a demo on Self-Adhered Membranes and Burt Roth presented on Polyflash 1C.
SPEC & NWIR
The SPEC team stands firm behind its mission to provide lasting value, quality products, and extraordinary customer service. They are committed to the growth and retention of loyal customers and valued vendors while positioning themselves as the preferred supplier of building materials to the roofing, siding, and home improvement contracting industries. The mission of NWiR is to empower women in the roofing industry. National Women in Roofing (NWiR) is a volunteer-based organization that supports and advances the careers of women roofing professionals, from manufacturing to design to installation, investigation to repair to management, and every step in between. NWiR provides networking, mentoring, education, and industry recruitment opportunities from the rooftop to the boardroom, for the young professional at the start of her career to the seasoned manager in the executive suite. Through a commitment to connect and empower women in roofing, NWiR members contribute to the overall betterment and professionalism of the roofing industry.
Polyglass & RoofTech Associates
Polyglass prides itself in innovative and quality roofing products that exceed the needs and expectations of its customers all around the world. This commitment is demonstrated daily by the people that work for Polyglass, where the customers' needs always come first. Roof Tech Sales & Associates set out to provide products and information through distribution, working directly with contractors, architects, consultants, and specifiers. Independent representative firm for the highest quality manufacturers in the roofing industry. Our focus is on sales, support, and customer service for our clients. In addition to marketing and sales support, we act as field consultants, provide training, and product guidance, and help develop specifications for Florida.