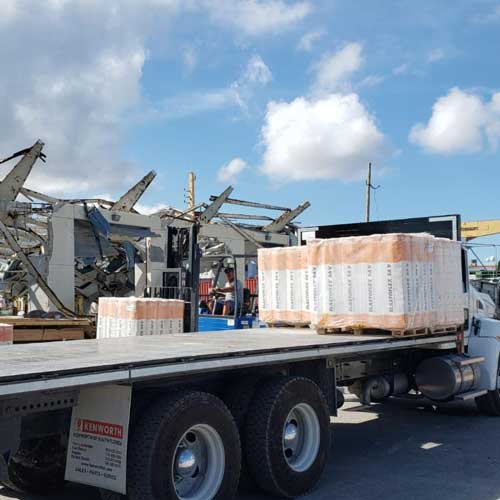 Polyglass Contributes Roofing Materials to Rebuild in the Bahamas
Polyglass U.S.A., Inc continues to aid in the relief effort to rebuild communities in the Bahamas a year after category 5 Hurricane Dorian displaced thousands of people from their homes. Even this long after the disaster many people in the affected area are still tent camping because they do not have waterproofed roofs or livable housing. Polyglass partnered with Sol Relief, a disaster relief organization based in St. Petersburg, FL, and has contributed several shipments of self-adhered roofing membranes to build waterproof roofs so families can move back into their homes.
"Giving back to our community is a significant and important part of the Polyglass culture, and we are glad that we could be a part of this life-changing work," said Director of Strategic Marketing Scott Lelling. "We hope that our contribution helps to get folks in the Bahamas back into their homes."
Polyglass provided several shipments of roofing and waterproofing products to disaster relief partners including rolls of Elastoflex SA V self-adhered modified bitumen membranes, Polystick® P, and Polystick® XFR self-adhered underlayments, along with pails of WB-3000 primer low VOC, water-based acrylic primer.
"This past November, Polyglass USA generously donated 2428 rolls of waterproof roofing membranes, a retail value of more than $187,000," says Tracy Harris, Director of Operations for Sol Relief. "This incredibly generous donation will provide waterproof protection for over 300 homes in Marsh Harbour, Bahamas. This donation was in addition to the 621 rolls, over $46,000 worth, Polyglass donated in May of 2020 which provided 80 homes with waterproof roofs. Sol Relief and the residents of Marsh Harbour are forever grateful to Polyglass for their amazing support."
Polyglass U.S.A., Inc. is a leading manufacturer of roofing and waterproofing systems. Known for its self-adhered modified bitumen roofing systems based on the company's patented ADESO® Technology and CURE Technology®, Polyglass also produces a full line of premium roof coatings and roof maintenance systems. An ISO 9001:2015 certified company, Polyglass provides quality products and adds value through innovation.