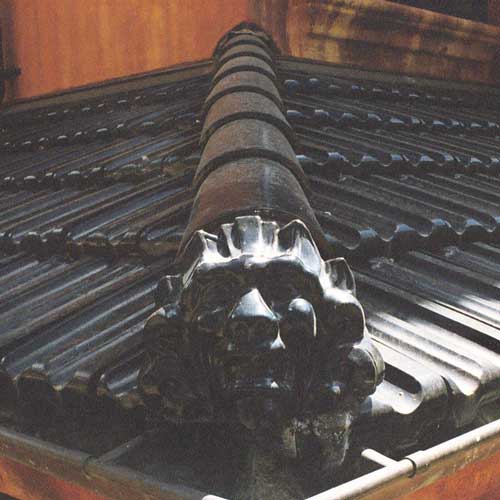 Accessories that are Durable, Saves Energy, and are Beautiful!
The right roof accessories will make your new Ludowici roof a durable architectural statement for years to come. Explore Ludowici's roof accessory options to top off your new roof in style. Beautifully detailed trim pieces are a signature element of a Ludowici roof. From ornate and stylized, to clean and simple – Ludowici offers a wide range of clay roof trim styles. Our trim pieces are designed to be installed at the external intersections of roof planes and are compatible with all clay roof tile profiles.
Ludowici's trim group has been adorning buildings small and large for over 130 years. High Bump terminals make a statement of style and distinction. The Circular Cover has been used in Europe for centuries and is an understated elegance that does not distract from the architecture and can be used with all Ludowici profiles.
Terra cotta is a natural material, manufactured from earth and water, that has been used to create building products for centuries. It is an energy-efficient, sustainable choice for your project. At Ludowici, we are committed to manufacturing architectural terra cotta products that honor their heritage from the earth. There are many qualifications that we strive to meet each and every day, to help us live up to this promise.
Unmatched Durability
Unlike other roofing materials, Ludowici terra cotta tiles have a life expectancy of over 100 years. The tiles also do not require maintenance, saving the environment from harsh chemical cleaners and landfills from filling up with roofing products that need to be replaced every 10 years. This means Ludowici tiles offer the lowest life cycle costs in the industry.
Reduce. Reuse. Recycle.
Ludowici tiles are made of locally sourced, natural materials (clay and water) through a unique process that creates no waste. They go to great efforts to be good stewards of the land they harvest. The tiles are chemically inert, making them forever safe. Moreover, all Ludowici products are 100% recyclable. They may be reused to create a beautiful vintage roof. At the end of their lifespan, they can be recycled and used as filler and filter components for future construction.
Roof Tech Associates, and Ludowici, are your premier source for architectural terra cotta roof tiles, quarry tile flooring, wall cladding, and solar shades. Jim Gory can assist you in your roof accessory selection.