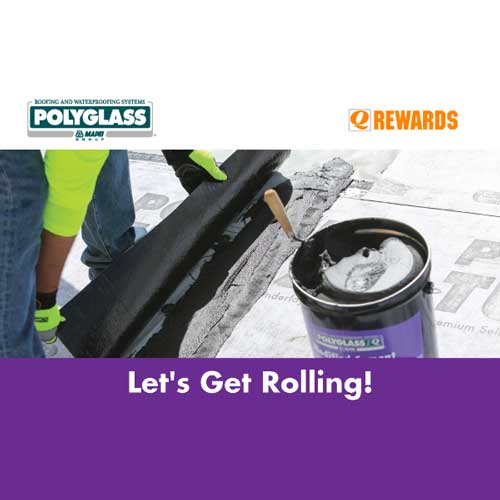 Before you get rolling, we wanted to let you know…
* From now until June 30th, 2022, you will have a chance to win a PG Seam Roller!
* Submit invoices for PG500 or PolyPlus® 50 (PP50) and every month we'll select 5 PG Seam Roller winners.
* Plus, during that time you can earn triple points on both products!
* Please contact Jim Gory, RoofTech Associates, or call 407-342-4282 to get rolling!
How Does it Work?
Submit invoices for PG500 and/or PP50
Earn triple points on those invoices
Earn an entry to win a PG Roller for each invoice
Not Enrolled in QRewards? Signup today and earn a bonus!
PG500 – high-quality formulation suitable for use as a cold-applied bonding agent for SBS roofing systems as well as various other membrane systems.
PolyPlus® 50 – premium modified wet/dry cement is a superior quality formulation for use in a wide variety of roofing applications such as SBS roofing systems.
Polyglass®
A leading manufacturer of modified bitumen roofing and waterproofing membranes and roof coatings for low- and steep-slope applications. Polyglass utilizes the most technologically advanced manufacturing processes in the industry with six state-of-the-art manufacturing facilities – five in the United States, and one in Italy which services all of Europe. Polyglass also has operations in Great Britain and Romania.
Roof Tech Sales & Associates
A family legacy, founded in 1997, Jim Gory set out to continue the tradition and utilize the extensive knowledge gleaned from an 80-year heritage in roofing. Roof Tech Sales & Associates set out to provide products and information through distribution, working directly with contractors, architects, consultants, and specifiers. We are an independent representative firm for the highest quality manufacturers in the roofing industry. Our focus is on sales, support, and customer service for our clients. In addition to marketing and sales support, we act as field consultants, provide training, product guidance, and help develop specifications for Florida.