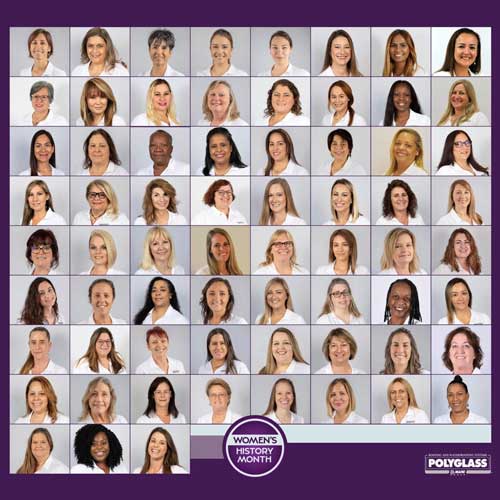 The Women of Polyglass
All through the month of March, Americans celebrate the achievements of women throughout history. In business, art, athletics, government, philanthropy, humanities, science, and education. Women's talents and acumen are not to be overlooked. You can find women at the top of roofing companies as CEOs and marketing directors and in other leading roles. You'll also find them pursuing roofing research, sales, distributing, consulting, and manufacturing, and, of course, you'll find them on the roof.
Organizations for Women in Roofing
There are many organizations dedicated to expanding women's roles in construction and roofing. One is National Women in Roofing (NWIR), an American volunteer-based organization, officially launched at the International Roofing Expo (IRE) 2016. In the short time since then, the organization has gained over a 1,000 members, all dedicated to advancing and empowering women within the roofing industry.
RoofTech Facts
Roof Tech Sales & Associates set out to provide products and information through distribution, working directly with contractors, architects, consultants, and specifiers. We are an independent representative firm for the highest quality manufacturers in the roofing industry. Our focus is on sales, support, and customer service for our clients. In addition to marketing and sales support, we act as field consultants, provide training, product guidance, and help develop specifications for Florida. We channel products through distribution and work directly with Contractors, Architects, Consultants, and Specifiers to provide quality service and product knowledge. RoofTech Sales Associates celebrates our very own Cece Rooks. She is committed to meeting our client's needs and representing all the superb products of Polyglass.
Cece@rooftechassociates.com
My Why
I worked my way into this field by starting at the bottom and learning the ropes, customer service, inside sales, purchasing and financing, I understand every aspect. I love to find the shortcut to help people. I do the legwork for my clients so they won't have to. I thrive on finding solutions for my customers and their clients.
I'm the glue that keeps everyone and everything together
Treat my clients like family
Degree in Business Management
What you don't know about me is that I always answer the phone, the response I get is …I knew you would answer!!!