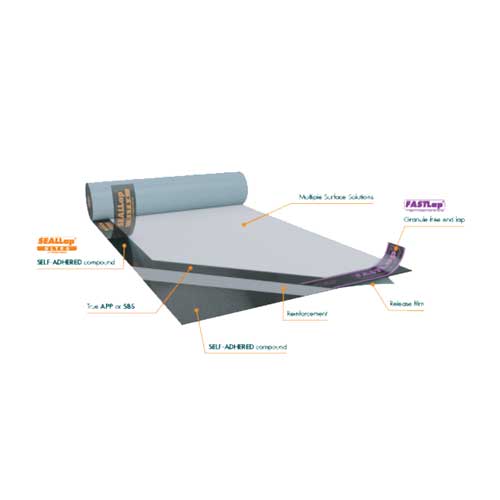 Ready for a faster, stronger, cleaner, and safer end lap?
FASTLap® is a patented, granule-free end lap featured on Polyglass modified bitumen membranes. Install cap sheets faster without compromising performance. Protected by a film that is removed prior to installation, FASTLap provides a smooth, clean surface to adhere to consecutive rolls.
Enjoy reduced labor costs with an average time savings of 200 minutes per 100 squares.
Get stronger, more reliable seams for greater long-term protection for the building owner.
No need to heat and scrape granules at the end lap. Simply remove the film, heat weld the seams, and you're done!
Fastlap PDF
More Videos About Polyglass Technologies
ADESO® Self-Adhered Technology
Why Polyglass?
Polyglass® is an ISO 9001:2015 Certified, leading manufacturer of modified bitumen roofing and waterproofing membranes and roof coatings for low- and steep-slope applications. We are an industry leader in self-adhered underlayments that are specially designed to help contractors save time and labor costs.
Utilizing the most technologically advanced manufacturing process in the industry, Polyglass operates six state-of-the-art manufacturing facilities — five in North America and one in Italy that serves all of Europe.
As a company that prides itself in innovative and quality roofing products that exceed the needs and expectations of its customers all around the world, we offer roofing contractors the following benefits:
An extensive line of underlayments and other roofing products that allow for custom-designed solutions for unique construction challenges and environmental conditions
Outstanding technical support and project assistance
The most trusted warranties in the industry
A registered contractor program and a wide array of contractor resources, including instructional videos to Polyschool courses.
The ability to earn points and redeem prizes for every Polyglass purchase with QRewards