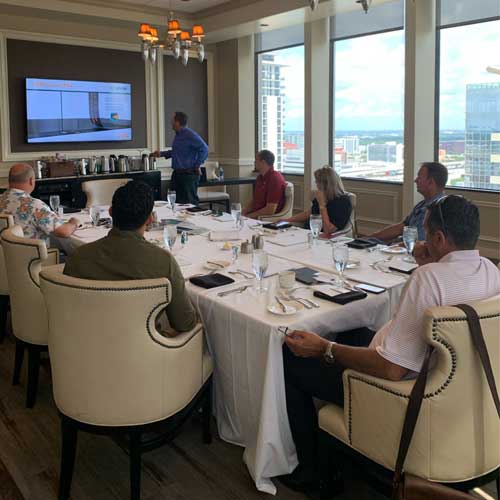 We would love to host a Lunch & Learn for your team!
Keeping your team up to speed on all the products and processes is a challenge, we have the solution! Lunch & Learn. Yes, there is such a thing as a free lunch! This is perfect for you and anyone in your office that you feel could benefit. We can present on both residential and commercial systems, always allowing time to answer any questions you may have. We can focus the presentation towards:
Contractor offices
Design professionals
Architects
Specifiers
Consultants
The presentation will cover roof systems, warranties, and competitive benefits. These Lunch and Learns are hosted by RTS & Associates in the greater Orlando area. A family legacy, founded in 1997, Jim Gory set out to continue the tradition and utilize the extensive knowledge gleaned from an 80-year heritage in roofing. Roof Tech Sales & Associates set out to provide products and information through distribution, working directly with contractors, architects, consultants, and specifiers. We are an independent representative firm for the highest quality manufacturers in the roofing industry.
Our focus is on sales, support, and customer service for our clients. In addition to marketing and sales support, we act as field consultants, provide training, product guidance, and help develop specifications for Florida. Our main product lines will cover all aspects of your roofing needs. The brands we represent quality and continue with the very basis of the RTS & Associates mission of service, honesty, loyalty.
We hope you'll join us for lunch.
SCHEDULE A DATE!
Does this sound like a good idea? Then call Cece Rooks and pick a date! She will organize everything for you, invites, info, menu selections, etc.
559-310-3504
What you don't know about Cece is that I always answer the phone, the response I get is …I knew you would answer!!!