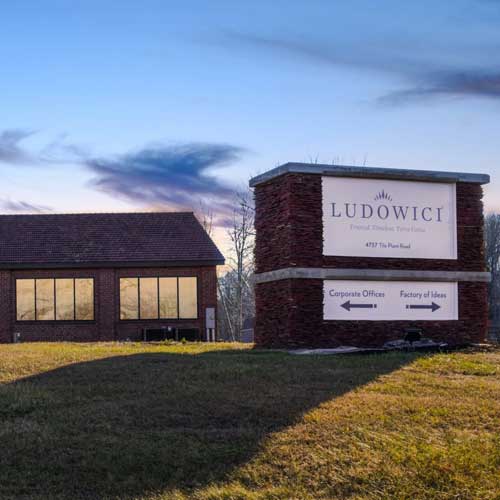 Hands-on Idea Factory
Ludowici's Factory of Ideas design center is a unique hands-on facility where visitors work one-on-one to curate their design with our team of experts. Housed in a 130-year-old factory building, visitors can browse the entire Ludowici product line, experiment with colors, surfaces, and blends, and build mock-ups at the correct pitch and proper orientation for their project. Visitors study transitions, explore trim styles, and solve unique construction challenges with Ludowici experts – all with full-size materials. Once approved, your mock-up serves as a template for their project. A tour of the Ludowici manufacturing facility can also be provided for visitors to see how our tile is made from start to finish and visit with Ludowici artisans at work.
Housed in a 105-year-old factory building renovated to become the world's only hands-on interactive facility where visitors can work with Ludowici experts to build custom roof mockups. The roof is a large part of any design – and extremely difficult to visualize. Environmental changes such as lighting, shade, rain, and working with natural material add subtle changes best seen in person. At the Factory of Ideas, a guest works with Ludowici experts to create mock-ups of the actual tile at proper pitch and orientation, and then test in various environments.
The Factory of Ideas is organized as a hands-on assembly line of possibilities where the visitor can interact with the industry's largest range of tile forms, styles, colors, and textures. Ludowici's guests can then select, customize, match, modify and create tiles. If given advanced notice, Ludowici can manufacture custom tiles and construct a mockup prior to the visitor's arrival, then the mockup can be modified as desired. Ludowici can also ship final mockups to the job site.
In the center of the space are three rail carts with adjustable tops where the mockups are made; two adjustable tops for large planes, one adjustable top for a symmetrical ridge. The mockups are then pushed outside to the Viewing Terrace, rotated to the proper orientation on a turntable, and seen in full sun. Mockups can be modified as many times as the visitor requires, all with expert advice. Color blends can be refined, special tiles can be integrated, transitions can be studied and resolved.