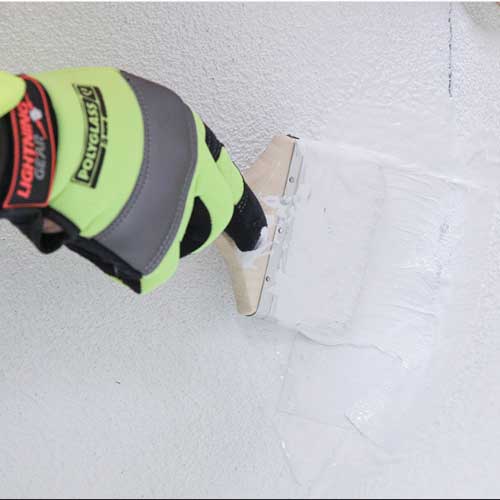 White elastomeric coating is like sunscreen for your roof!
Just like sunscreen protects our skin against the harmful UV rays of the sun, white elastomeric coatings provide a highly reflective, seamless barrier against corrosive elements in the summer season that lead to moisture penetration and damaging leaks. It's the intelligent choice for premium roof protection.
Decrease roof surface temperature
Low VOC, non-flammable
Reduce energy costs
CRRC listed (white only)
Learn more about Elastomeric Coatings 
Elastomeric Roof Coatings: How-To Guide
An elastomeric roof coating can add an additional layer of protection to existing roof systems, stop leaks, increase energy efficiency, and extend a roof's life expectancy. Be sure to check out our 6 Steps for a successful Elastomeric Roof Coating application. The coating is a liquid-applied coating (typically made from either silicone or acrylic) that cures into a durable, highly elastic membrane when it dries. The elastic quality makes it easy to apply to most roof surfaces and highly adaptable to a wide range of weather conditions. Elastomeric roof coatings can be applied over new roofs to provide an extra layer of weatherproofing, or they can be applied to older roofs to seal leaks, reinforce the roof's integrity, and extend lifecycle expectancy.
Advantages of Elastomeric Roof Coatings
Increased energy efficiency and UV protection. Elastomeric roof coatings offer a "cool roof" effect that lowers energy bills in the summer months.
Adds additional waterproofing and weathering protection. Elastomeric roof coatings provide a robust shield against rain, snow, ice, etc. They also provide additional
reinforcement for roofs that may be subject to high winds.
Easy to repair and maintain once installed. Vulnerabilities can be easily resealed by applying more coating directly to the areas of damage.
Restores roof viability and extends the roof life expectancy. A well-applied elastomeric coating can last 10-20 years.
To learn more about "sunscreen for your roof" using Polyglass Elastomeric products, contact Jim Gory, at 407-342-4282, RoofTech Associates,