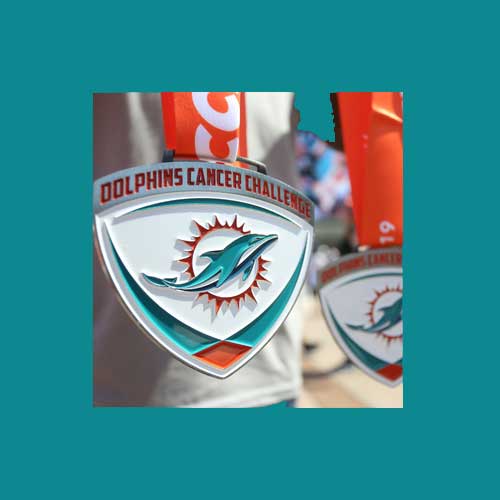 DCC 2021 Cancer Challenge
This year the DCC is April 10, I will again be on the road with team Polyglass. It's personal for me, my family has had several bouts with cancer, both my father and my cousin have passed away due to cancer so I am committed to helping find the cure so your family also doesn't have to lose a loved one to cancer. Whether you ride, run, walk, volunteer, or donate, we are all fighting cancer. I need your support to help me reach my goal and I thank you for supporting me in my fundraising efforts.
Saturday, April 10, 2021
Run/Walk – 5K route will be spaced out with varying start times to increase participant comfort and allow for social distancing
Rides -15 mi, 50 mi & 100 mi cycling routes will start and finish at Hard Rock Stadium
35 mi ride route will start at the University of Miami and finish at Hard Rock Stadium
The DCC has become one of the nation's most celebrated experiences inspiring thousands of cyclists, runners, and walkers to come together as one team focused on one unified fight. But we realize now more than ever, it's time for us to grow our mission beyond just that moment. It's time for us to evolve into a year-round movement focused on the challenge the cancer community faces every single day. We're raising the bar, our collective goals, and the impact we will have in pursuit of your cure.
Sylvester Comprehensive Cancer Center, part of UHealth —University of Miami Health System and the University of Miami Miller School of Medicine, is the only cancer center in South Florida designated by the National Cancer Institute. NCI designation recognizes that Sylvester has met the most rigorous standards for cancer research, beginning in our laboratories, extending to patient care, and meeting specific needs in our community. Sylvester is known as South Florida's leader in patient-focused cancer research and care, offering the only Phase 1 Clinical Trials program – the first step in evaluating how patients respond to the latest investigational treatments. NCI designation further expands Sylvester's ability to provide access to novel therapies through more clinical trials and collaboration with other designated centers. Equipped with a highly qualified team of more than 300 cancer-focused physicians and researchers working together, Sylvester discovers, develops, and delivers more precision cancer care. To serve current and future patients, Sylvester has a network of conveniently located outpatient treatment facilities throughout South Florida.