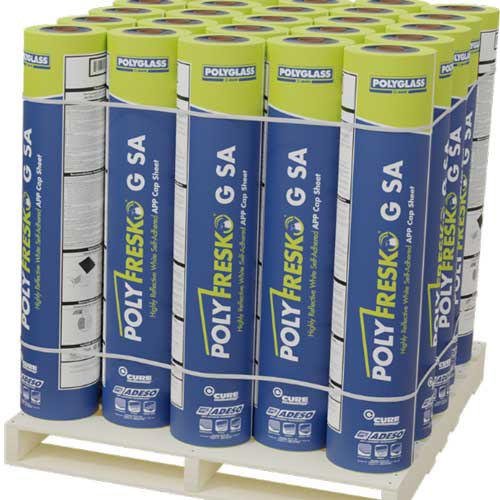 Box-To-Wraps Packaging on Low-Slope Self-Adhered Membranes
Wraps are an upgrade, so we wanted to let you know…
With continuous commitment to enhance our customer experience and improve product performance while remaining competitive and relevant to market needs, Polyglass U.S.A., Inc. is upgrading the packaging for low-slope self-adhered roofing membranes from boxes to high-performance roll wraps.
This transition will begin in February 2022 for our customers served by production out of our Nevada facility and continues as a rolling change through July 2022 for our customers being served by Polyglass' Texas, Florida, and Pennsylvania manufacturing facilities.
During this transition, Polyglass will continue shipping boxed products from finished goods inventory until inventory is depleted. This will be managed on a plant-by-plant and product-by-product basis. Polyglass Customer Service will advise customers when a purchase order should be modified to reflect roll wrapped products and provide the updated product codes and quantities. Please contact Jim Gory, RoofTech Associates, your best advisor on all the Polyglass wrap changes, call 407-342-4282 to get more details.
Products Converting to Roll Wraps
Elastoflex SA P
Polyflex® SA P
Polyfresko® SA
Elastoflex SA V Plus
Elastoflex SA Base
Elastoflex SA Base Plus
Polystick® XFR
Elastoflex SA P Polar Cap®
Elastoflex SA V Polar Base®
Elastoflex SA Polar Base®
Benefits Wrap vs. Box Packaging
More rolls per pallet (25 vs. 20), More rolls per truck
Easier and safer handling
Non-wicking polymer. Resistance to rain and elements
Less waste on the roof and job site
Recyclable
UV protection of membrane
Changes
Pallets will go from 20 rolls to 25 rolls per pallet
Product codes (SKU's) now have a "Q" added to the end to indicate a wrapped product
Superior roll wrap film with a strengthened seam
Improved ease of wrap removal – 50% faster vs previous wrap films
Clear and professional inline printing directly on the wrap for granulated cap sheets. Includes granule color indicator, barcode, and quality control number