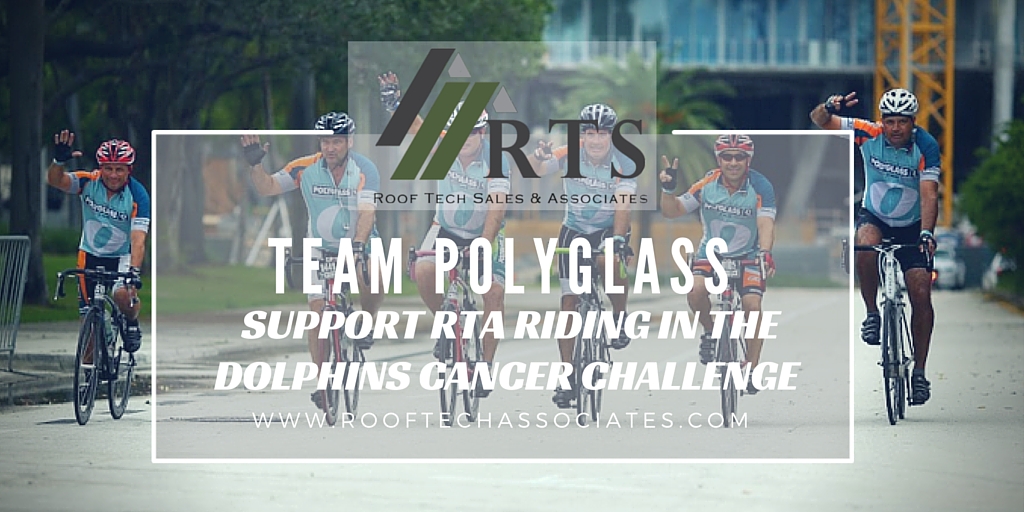 Team Polyglass in the Dolphins Cancer Challenge
Welcome to 2016. We've left a successful 2015 in the rear view mirror and have high hopes for the new year. We are all plotting our courses for success, health and happiness. Yes, business is important for Roof Tech Sales & Associates and Polyglass, but doing important and meaningful things that help people is also part of the FAMILY culture that we hold close to our hearts. Being a part of the bigger picture, because there is more to life than just focusing on roofing. Creating long term relationships and partnerships is our mission.
February 20th Team Polyglass will be participating in the Dolphins Cancer Challenge by riding 46 miles to raise money for the Sylvester Cancer Center. This year the event has more meaning to me than ever because cancer has touched my inner circle of friends and my family very recently. In one way or another we've all been affected by this disease.
LET'S FIGHT CANCER ONE MILE AT A TIME
What is the Sylvester Cancer Center?
Sylvester serves as the hub for cancer diagnosis and treatment for UHealth -University of Miami Health System
Sylvester handles 1,100 inpatient admissions annually.
Sylvester performs more than 2,400 surgical procedures and treats more than 4,100 new cancer patients annually.
All Sylvester physicians are on the faculty of the Miller School of Medicine, South Florida's only academic medical center.
Today there are more than 305,000 outpatient visits at the cancer center.
There are more than 250 physicians and scientists working on approximately 168 clinical trials and receive more than $49 million annually in research grants.
I'll be riding with Team Polyglass for this important cause and ask you to participate by donating to Sylvester through my sponsorship link. The amount doesn't matter. Polyglass is one of the major sponsors of this event and Roof Tech Associates would love to have your support.