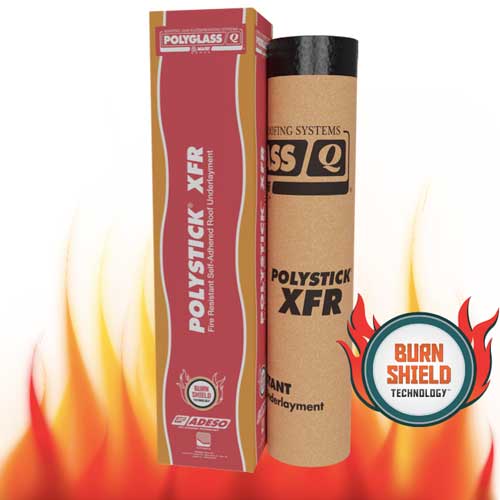 Fire-Resistant Self-Adhered Roof Underlayment with Burn Shield Technology
Polystick XFR is a dual-purpose fire-resistant and self-adhered waterproofing underlayment approved for applications up to 265°F. Reduce your labor and material cost and enjoy peace of mind knowing that Polystick® XFR is providing extra protection against the elements. Double Down on Your Protection! Polystick® self-adhered underlayments provide a waterproofing shield that roof tile, metal, or shingle alone cannot match.
🔥Superior protection against fire spread/penetration and ember resistance in systems tested under UL 790
🔥Helps achieve UL Class A for Combustible Decks using a single layer*
🔥Robust 80 mils (2 mm) of waterproofing rubberized asphalt
🔥Self-Adhered with split release film for ease of application
🔥Fiberglass reinforced for added strength and dimensional stability
🔥Skid-resistant top surface with max 180 days exposure
🔥Dedicated side lap for consistently strong seams
🔥Approved for applications up to 265°F
🔥Up to 30-year warranty (Reference Polyglass Warranties Terms & Conditions)
Polystick Video
More Polystick XFR with Burn Shield Technology info – Click here
The RoofTech Associates team can help you with any questions or solutions you might need with Polyglass® products.
Polyglass USA
Polyglass became a leading manufacturer of modified bitumen roofing membranes in Europe in the 1960s. From there, it introduced the products and technology to the United States in 1992. Since then, Polyglass has grown to be a leading innovator in the roofing industry.
Polyglass is committed to adding value by producing cutting-edge products that meet or exceed the needs of our customers. Our goal is to provide a professional experience, focusing on quality products and efficient service while meeting the objectives of our shareholders and employees.
Polyglass prides itself in innovative and quality roofing products that exceed the needs and expectations of its customers all around the world. This commitment is demonstrated daily by the people that work for Polyglass, where the customers' needs always come first.