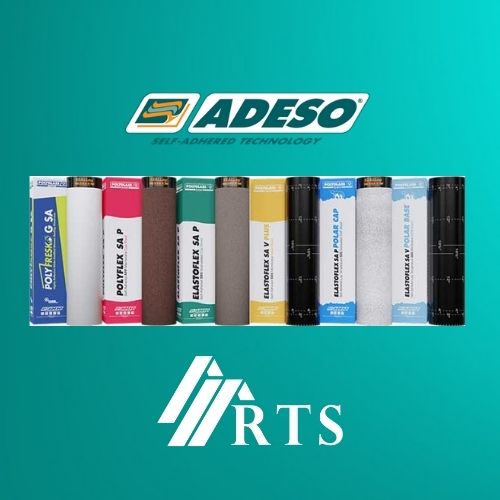 What is ADESO Technology?
Polyglass is the largest manufacturer of self-adhered membranes in the U.S. ADESO Technology revolutionized the modified bitumen industry by manufacturing dual-compound self-adhered (SA) membranes using a true APP or SBS formulation on the top weathering side and an aggressive self-adhered formulation on the bottom side of the reinforcement. ADESO Technology integrates patented features that enhance lap sealing and allows product design with a variety of customized surfaces.
Dual-compound membranes – ADESO combines a true APP or SBS compound top weathering surface with an aggressive self-adhesive compound on the bottom surface.
Granule-free endlaps – Our FASTLap® technology provides a smooth, clean surface for efficient installation — saving time and money.
Monolithic side lap bonds – SEALLap® ULTRA provides an instant side lap bond, tested stronger than all other application methods.
Compatible with multiple surface types. Our ADESO membranes can adhere to a variety of substrates, providing a flexible solution for any roofing system need.
Polyglass® became a leading manufacturer of modified bitumen roofing membranes in Europe in the 1960s and introduced its products and technology to the United States in 1992. Since then, Polyglass has grown to be a leading innovator in the roofing industry. Decades of practical experience in the application of roofing and waterproofing materials provide a strong foundation for understanding the importance of contractor satisfaction. Launching innovative technologies such as Polyglass' patented self-adhered ADESO® Technology in the 1990s positioned Polyglass as a leader in self-adhered modified bitumen membranes. As the company continued to grow, it was acquired in 2008 by Mapei®, a global manufacturer of adhesives, sealants, and chemical products for the building industry. Since the acquisition, Polyglass USA's headquarters moved to Deerfield Beach, Florida, and the company is better positioned globally for growth. Want to learn more about ADESO technology? For a direct consultation call your rep, Jim Gory for details at 407-342-4282.