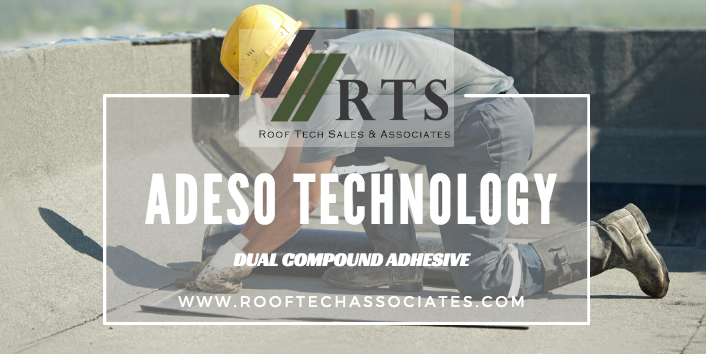 Self Adhered Modified Bitumen Roof Systems
 Self Adhered roofing has come a long way since the term "peel and stick" was coined. So what's the difference?  
ADESO Technology!
ADESO Technology is what makes  Polyglass Self Adhered Modified Bitumen Roof Systems different and better. Polyglass offers something that no other manufacturer can.  A dual compound membrane. ADESO technology uses a polyester reinforcement to separate the adhesive side of the membrane which is not UV resistant and the APP granulated side that is a more resilient and durable compound.  In the Florida climate, we all know that durability and a better weathering compound is needed, which APP offers.  

The differences don't stop there.  With our factory applied Fast Lap Polyglass provides you with a granule free end and side lap so you don't have to spend time embedding granulated laps.  These Fast Laps are protected by release films so the glue strips are not contaminated by debris, maximizing adhesion.   
Self Adhered Modified Systems have been around long enough for us to know that they work and are reliable.  SA systems offer the redundancy of plies that we all believe in, and their ease of installation allow for faster and safer installs with smaller crews and less equipment. Smells like money!

Here's how it works.
The bottom compound is SBS with adhesive, reinforced with a fiberglass mat saturated and coated with a rubberized asphaltic compound with exceptional waterproofing and weatherability properties. The top granulated surface is APP separated by the polyester reinforcement ,saturated and coated with a polymerized asphaltic compound. The top and bottom surfaces of the Polyglass APP Base are finished with poly film and both SBS and APP are proprietary to Polyglass.
Our competitors use a single compound, the problem with that, the adhesives breakdown when faster when exposed to the elements which early degradation of those compounds. The Polyglas Self Adhered Modified Bitumen Roof Systems has dual compound technology which has exceptional waterproofing and weatherability properties. Saves installation time, with the speed and ease of installation you can reduce the crew size.  Quality product, reduces expenses, still have questions ask Jim Gory at Roof Tech Associates,  407-342-4282, jim@rooftechassociates.com