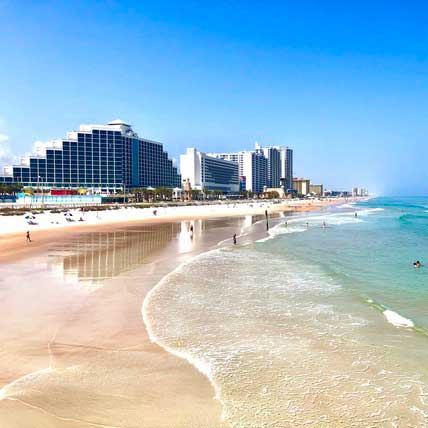 The Florida Roofing & Sheet Metal Contractors Association 100th Convention!
Daytona Beach ~ July 19-22
The Florida Roofing and Sheet Metal Contractors Association was founded in 1922 to bring together contractors as well as businesses with related interests. FRSA's purpose is to foster and encourage a high standard of business ethics among its members and to inform the general public of the importance of doing business with Florida certified licensed and insured roofing professionals.
FRSA encourages quality through research, education, and recognition of competence. The Association provides potential economies through the cooperative purchasing of insurance, financial services, and other products and services designated by the Board of Directors. FRSA represents the interests and acts as the voice of its membership before government and regulatory bodies of all kinds and works to improve the overall industry in keeping with the general purposes of the Association.
FRSA's 100th Annual Convention and the Florida Roofing & Sheet Metal Expo
Ocean Center and Hilton Daytona Beach – July 19-22, 2022
FRSA proudly hosts the largest regional roofing show in the country. Over 230 exhibiting companies displaying the latest products and services make this show a vital experience for roofing or sheet metal contractors. The Expo is located at the Ocean Center Daytona Beach and includes the Foundation Auction and the Affiliate Competition. As always, the Expo is FREE for all roofing professionals. Gain a competitive advantage by exploring the latest and greatest the industry has to offer.
RoofTech Associates will be there!
We hope you'll be joining us at the FRSAs 100th Convention! Booth #101. We have continued the family tradition and utilized the extensive knowledge gleaned from an 80-year heritage in roofing. Roof Tech Sales & Associates set out to provide products and information through distribution, working directly with contractors, architects, consultants, and specifiers. We are an independent representative firm for the highest quality manufacturers in the roofing industry. Our focus is on sales, support, and customer service for our clients. In addition to marketing and sales support, we act as field consultants, provide training, and product guidance, and help develop specifications for Florida.