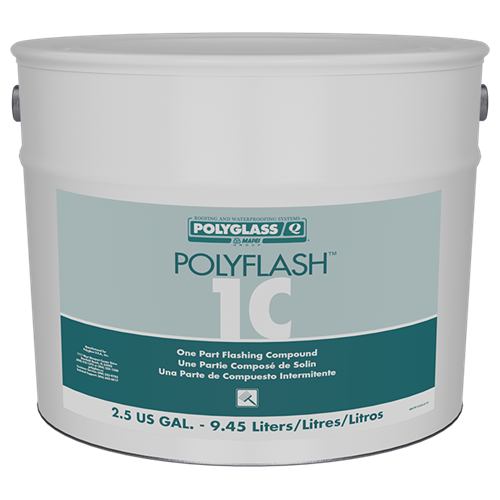 Fixed in a flash – with PolyFlash® 1C Flashing Compound
Need a fix in a flash? Learn More About Polyflash 1C. Strong and durable: The high-solid formulation of PolyFlash 1C provides high tensile strength and crack bridging capabilities. User-friendly application: Polyflash 1C has minimal odor, and can be applied in wet conditions and across an ambient temperature range of 40° F to 122° F.
Outstanding weatherproofing: This flashing compound offers excellent waterproofing of <1.0 US perms and is UV-resistant when fully cured.
One-Component, Moisture-Cure Silane-Modified Polyurethane. PolyFlash 1C is an ideal product for contractors to have on hand when performing roof maintenance as a reliable, versatile solution for temporary and permanent roof repairs. When determining when to use this flashing compound, we recommend contractors walk through our handy roof maintenance checklist to help ensure any warranties stay intact.
Handy Roof Maintenance Checklist
Conduct a documented roof inspection. Visually survey the exterior condition of the roof.
Remove roof-top debris. This includes (but is not limited to) leaves, branches, dirt, rocks, bottles, trash, etc., that has accumulated.
Clean gutters, downspouts, drains, and scuppers. Make sure water freely flows off the roof. No standing water should remain on the roof surface within 48 hours after the last precipitation.
Examine all-metal flashing areas for rusting or damage. This kind of damage may have been caused by foot traffic, wind, hail, snow, ice, etc. All damaged, loose, or poorly sealed materials must be repaired with Polyglass products, by a Polyglass Preferred/Quantum Contractor, or as otherwise approved by Polyglass.
Maintain and re-mediate all exposed mastics and sealants regardless of purpose or function. These maintenance items should include pitch pans and metal flashing sealants.
Examine all adjacent areas to the roof, parapet walls, and adjoining structures. Damage to items such as masonry, failing mortar joints, loose or missing sealants, loose stone/tile caps, loose and improperly sealed counter-flashing, etc. often cause leaks. These items need to be repaired by properly trained personnel to avoid any unnecessary charges or voiding of warranty coverage. Unauthorized repairs will void the manufacturer's warranty.
Protect roof during repairs. When repairing items related to the roof/coating product(s), associated items, or building structure, be sure to use precaution and properly protect the roof/coating product(s) from damage.
Examine roof-top equipment. This includes air conditioning units, condensers, exhaust fans, antennas, and any other roof-top items for damage. Check for leaking oil, damaged flashings, or loose parts/equipment that could cause puncture damage to the roof/coating product(s). All units shall be checked to ensure they are sound, watertight, and not displaced by wind events.
Check the building for excessive movement or settlement. Improper placement or the omission of expansion joints can cause unnecessary stress to the roof system, resulting in splits and drastically reducing the life cycle of the system.