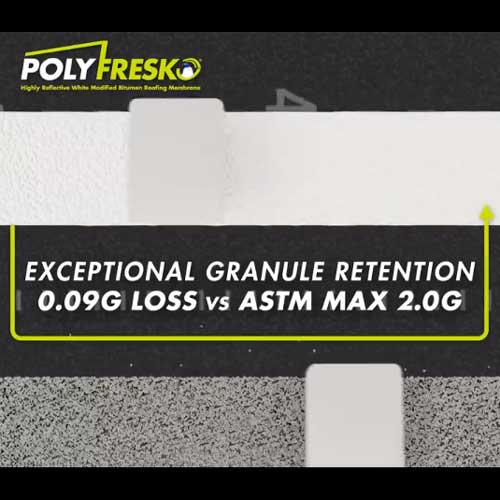 Provide more than a roof to your customers!
Polyfresko is the innovation you need! Featuring patented CURE Technology®, Polyfresko® cap sheets have a highly reflective granule surface that exceeds most standards for cool roofing. How do you measure the quality of a #coolroof membrane?
In this video, the ASTM D4977 Standard Test Method confirms and documents Polyfresko®'s superior granule embedment. The patented #CURE thin-film Technology® "locks-in" the granules which reduces the loss of granule surfacing.
ADESO® Self-Adhered, Heat Welded or Torch Applied
High Solar Reflectance Index (SRI) Initial: 96, 3-Year Weathered: 83
Energy-efficient, eligible for LEED® points*
Exceptional granule retention
The RoofTech Associates team can help you with any questions or solutions you might need with Polyglass® products. A family legacy, founded in 1997, Jim Gory continues the tradition and utilizes the extensive knowledge gleaned from an 80-year heritage in roofing. Roof Tech Sales & Associates set out to provide products and information through distribution, working directly with contractors, architects, consultants, and specifiers. An independent representative firm for the highest quality manufacturers in the roofing industry. Our focus is on sales, support, and customer service for our clients. In addition to marketing and sales support, we act as field consultants, provide training, product guidance, and help develop specifications for Florida.
Polyglass became a leading manufacturer of modified bitumen roofing membranes in Europe in the 1960s. From there, it introduced the products and technology to the United States in 1992. Since then, Polyglass has grown to be a leading innovator in the roofing industry.
Polyglass is committed to adding value by producing cutting-edge products that meet or exceed the needs of our customers. Our goal is to provide a professional experience, focusing on quality products and efficient service while meeting the objectives of our shareholders and employees.
Polyglass prides itself in innovative and quality roofing products that exceed the needs and expectations of its customers all around the world. This commitment is demonstrated daily by the people that work for Polyglass, where the customers' needs always come first.
Polyfresko Cap Sheets Video